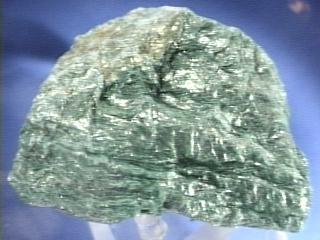 Keywords: Mental stimulation, inspiration, problem solving, attunement to the future, ESP, moderation of overly rapid spiritual awakening.
Element: Wind
Chakras: Third Eye (6th), Crown (7th)
I have the green version which is called Fuchsite, a chromium bearing type of Muscovite.
Robert Simmons
=============
Muscovite is a stone of highly positive energies. It affects the mind centers and mental processes more than emotions or physical body. Muscovite stimulates the rational mind, promoting clear, quick thinking, effective problem-solving and the synthesis of new ideas from old information. It is a stone of novelty, teaching one to try on unfamiliar frames of reference. It assists one in letting go of the habit of thinking things must be seen as 'either/or'. It allows one to move beyond strict logic and into the meta-logic of 'both/and.' Muscovite stimulates the higher capacities of the brain, lending one to embrace paradox, holding the tension of opposites within the mind without getting a brain cramp.
With it's vibration of higher mental stimulation, Muscovite is excellent for students, teachers, writers, inventors, scientists, mathematicians, business owners, consultants, political office holders and others who wish to engage the full capacities of the mind. It is a stone of inspiration, fostering the creation of new neural pathways and increasing the frequency of 'Aha!' moments. As one works with this stone, one often feels increased in confidence in one's own ability to tackle challenging projects or problems. Such confidence reduces mental and psychological stress, further enhancing one's powers of mind through the relaxation of tension.
Muscovite assists one in attuning to the time stream of the future. It does this by allowing one's mental apparatus to rest comfortably in the state of indeterminacy. Most of us are trained to always try to pin down the facts and 'get a handle' on reality. Along with that, we are educated to believe that the future will tend to resemble the past. This self-fulfilling prophecy keeps us chained to dreary predictability and kills the imagination. Muscovites energies encourage one to turn to the future with hopeful expectancy and without any preconceived notions. This frees the universe to present us with new experiences and novel experiences and answers to life's questions - or perhaps novel questions with no answers at all!
Muscovite stimulates the sixth and seventh chakras, activating the major mind centers. In addition to conventional mental processing, Muscovite supports the function of intuition, telepathy, clairvoyance and other forms of ESP. It makes one receptive to information and suggestions from one's spirit guides. It assists one in embracing 'bigger thoughts,' allowing one to see the links between such diverse disciplines as art, music, philosophy and mathematics.
Fuchsite, the green variety of Muscovite, brings the connection to the heart chakra, linking the intellect of the mind with the intelligence of the heart. Because of this, Fuchsite is the highest form of Muscovite, and work with this stone allows one to use the gifts of the mind guided by the hearts wisdom.
Muscovite harmonizes with Lepidolite for spiritual upliftment and release of stress. Moldavite can take Muscovite's mental energies to a higher level. For artists and others wishing for visions and inspirations, Phenacite and Herkimer 'Diamonds' are ideal allies.
Naisha Ahsian
===========
Muscovite is a wonderful spiritual insulator and is excellent for those who are susceptible to negativity or picking up difficult emotional energies from others. It seals the aura, preventing psychic attack and emotional or entity attachment. It is wonderful to use after the detachment of psychic cords or entities, as it prevents reattachment in the aura. It aids sensitive children to find their self-sense and prevents over-identification with the emotions of others.
SPIRITUAL: Muscovite assists those who are rapidly opening to spirit and who experience difficult psychic symptoms from a too-rapid awakening. It can help regulate and 'tone down' psychic information so that overload does not occur. It helps highly sensitive individuals maintain their own energetic and emotional integrity and to more easily determine what energies 'belong' to them, as well as what energies may be intruding from external sources.
EMOTIONAL: Muscovite helps one regain one's emotional integrity after the dissolution of relationships. Long-standing relationships can create very strong and deeply attached psychic cords between people. Muscovite insulates the emotional field, causing the cords to atrophy and drop away preventing re-attachment. It can assist one in not reacting to old emotional triggers when another person is attempting to 'push one's buttons'. It is excellent for those going through divorce or who need to break off intense emotional relationships.
PHYSICAL: Muscovite can assist in preventing the symptoms of rapid psychic awakening, including headaches, dizziness, vertigo, bad dreams, sleep imbalances and an inability to turn off the psychic flow of information. It is balancing for the brain and can be used to help alleviate other types of headaches, migraines and brain imbalances.
AFFIRMATION: I open myself to my higher potentials, to the time stream of the future, and to spiritual inspiration, as I maintain stability and balance.